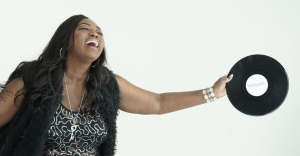 Sandra McClammy chartered her own course by stepping out of the eaves of the eastside of Wilmington, NC better known by its natives as the "PC" (Port City). From the streets of Turnkey she made her presence known. Standing proud at six feet tall she dared to go against the grain as a female radio jock, knowing that the radio business is heavily male dominated. Fearlessly she accepted the challenge and built a brand for herself when she accepted the position of on-air announcer in October of 1997. Trained by Gerald McSwain she sealed her determination and learned to exuding her own style to be like none other. 14 years later she is still in your ear as The Mid-day Miss, "Movin' you Thru your Mid-day" on WMNX's COAST 97.3, a Cumulus Station.
As a graduate of Wilmington's inner city high school, New Hanover High, and the city's college, UNCW Sandra has an excellent balance. She holds a bachelor's degree in English Literature and Language and a master's degree in Liberal Studies As a teen growing up in the "hood" she vowed to never forget her roots and to grow socially in a manner by which she could have a conversation with anyone. As she grew into an adult, she learned how it is essential to recognize and embrace the desperate educational, social and economic conditions that affect young people. Today she has placed herself in the entertainment world and educational arena.
As she built her presence as an on-air announcer, she embraced the knowledge she gained from her PD's Phillip David and Lou Bennett. She credits them for teaching her how to be more of a personality that an announcer; there is a difference. They also allowed her to add growth to the radio station. Under Phillip David in 2001, she developed a concept for a station street team, developed a plan, gave it a name, "The Flava Unit," recruited volunteers, and put the plan into action in a matter of three weeks. Ten years later, the concept remains and they are unmatchable. Sandra also assists in planning station events such as themed community socials, mini-concerts and mini-promotions. One such event that she designed, developed, and currently produces, is the station's famed "Poetry Jam" held quarterly by our station. Since 2003, she has successfully produced countless shows with a
roster of over 100 poets. Currently she works under the direction of Brandon "Bigg B" Hickman. In her quest to continue her growth, he has allowed her to step higher. She hosts many club events, socials, festivals, etc . . ."Bigg B" introduced her to Tony Neal of the famed CORE DJs in 2007. Now as a member of the Core, her mere presence causes a stir.
In addition to radio, Sandra is also an extreme community advocate. She joined Urban Promotions with "Bigg B" in an effort to address the desperate educational, social and economic conditions that affect young people. In 2006, they designed and developed an annual local Teen Summit. She also serves on many boards in her community such as New Hanover County Community Action, Inc., UNCW Alumni Board of Directors, and the Black Arts Alliance just to name a few. Sandra has won countless awards for her community service including the YWCA Woman of the Year, the UNCW Employee of Excellence, and the NC Governor's Award. She is also a proud member of Delta Sigma Theta Sorority, Inc.
Sandra holds true to a positive success formula. She strives for positive health, working hard to take care of herself physically, emotionally, spiritually, intellectually and socially Sandra's motto is "The best performance is living your life."